Messy Ecosystems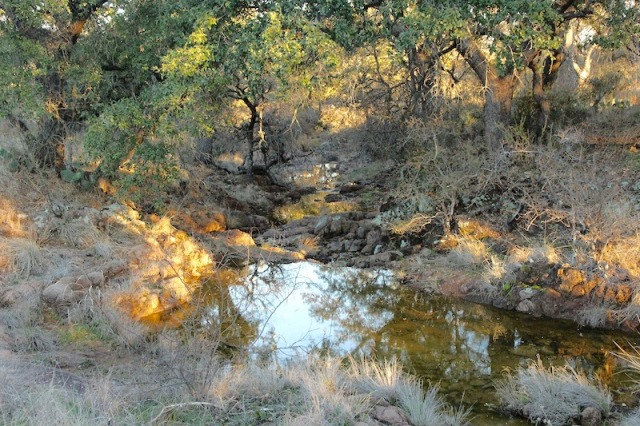 A few days after Christmas, Jack and I were hard at work burning brush piles out at the ranch, when suddenly we heard a raucous, clattering sound high above: it was the rolling call of dozens of migrating sandhill cranes. We paused to lean on our rakes and watch as the cranes spooled out into long chains, and then, according to some mutual signal, re-formed into chevrons, then back into lines - all the while calling back and forth to each other. Different groups continued to pass through over the next few days, marking their ancient journey from northern North America to their winter home along the Gulf coast. Jack and I joined our own long chain of humans who have stopped to admire this mysterious event, so soon after the longest night of the year.
Now 2016 is picking up speed, bringing with it plenty signs of spring. It's strange to think how more plants are germinating and growing now than in the "dearth" period (a beekeeping term, ya'll) of July, August and September, even when most trees now are still leafless and dormant. The chorister frogs are in full song: life goes on.
Winter is the time of year to tackle heavy projects, to wander through places unafraid while snakes still linger in their dens, and to dream of making all kinds of improvements before the heat sets in. It looks like this year we will have to do something about our easement road, because the floods of last spring have uncovered the large culvert pipes and now I'm worried about driving over it, even in my spiffy new little John Deere gator.
The reason the erosion is so bad here along the fence line is not only because of heavy rains, but because my neighbor continuously over-grazes his side of the fence, which leads to huge amounts of runoff and soil that gets carried downstream to us. To make matters worse, he has a track for his ATV also going through the low spot. Despite having built a multitude of stock tanks filled by constant pumping from wells, he allows his livestock full access to this little wet weather creek. The result is that the banks are packed down hard, and any water that remains is quickly converted to a muddy puddle made green from cow poo. All that is growing across the fence is the annual rye he plants each winter. In contrast, our side is full of Lindheimer muhly grass, switch grass, and other plants that filter storm water, encourage the water to pool and linger for longer periods. This maintain soil moisture to nourish the large trees for extended periods. This little arroyo wanders down to Marschall Creek, which is part of the watershed of the Llano River.
A couple of years ago I was pointing out the difference between the arroyo on our side of the fence and our neighbors to Dr. Gary Garrett, and he responded by saying, "You know, most people would prefer your neighbor's side because it's so easily accessible. They look at your side and they think: snakes! . It looks messy and uninviting."
His comment reminded me of Joan Nassauer's seminal essay "Messy Ecosystems, Orderly Frames" (Landscape Journal vol. 14#2 Fall 1995). Ms. Nassauer writes: " Ecological quality tends to look messy, and this poses problems for those who imagine and construct new landscapes to enhance ecological quality. What is good may not look good, and what looks good may not be good." Later she describes a water quality project in Minnesota that included building settling basins to filter storm water. The problem was that the "experts" envisioned a wetland, but to the neighbors, it was negatively viewed as a swamp. Nasseur goes on to say, "Social conventions keep the same people who dress in green slogans dressing their homes and cities in homogeneous plant communities where enormous species diversity once existed, appreciating robins where once there were warblers, and recycling plastic while depleting aquifers." Indeed.
When we encourage motivated people to do the right thing for the environment, scientific answers (like the benefits of managing a healthy riparian zone on your property) ought to be enough, but unless the methods and goals are legible to the landowner, scientific reasoning alone is not persuasive. Ecologists and landscape designers like me must always provide a comfortable place in the environment for people to enter, discover and explore so that the "wild, messy places" become more familiar to them and they are invited to learn more about natural processes. Instead of St. Augustine lawns mowed right down to the water's edge ( thus inviting erosion and instability during floods), we should include advice about providing a trail and a "landing" or access point to draw near to the water. Land management that combines a solid understanding of natural processes with a design that includes, and indeed recruits landowners to become inspired stewards is equal parts science and art. It seems to me that we need to try harder to expand our vocabulary during those teachable moments to help folks find their role and purpose in the landscape. It may help make the heavy job of managing land more rewarding and enduring, with fewer culverts to replace.